The date palm is called 'nakhl' and the fruit is called 'tamr' in Arabic. It is mentioned 20 times, and more than any other fruit in the Qur'an. There are more than 40 varieties.
The date palm is an important source for food and nutrition in the Middle East. A small seed grows into a palm 25 metres tall, yeilding bearing 150kg of dates per year. Date palms grow around an oasis. Bunches of dates are covered in brown paper to protect them from birds while ripening.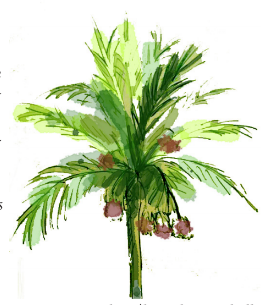 In Psalms 1:3 of the Muzmure it states - 'And the righteous person shall be like a palm tree planted by the rivers of water, that brings forth his fruit in his season; his leaf also shall not wither.'
And again in Psalms 92:7-8 we read - 'The righteous shall flourish like the palm tree. Those that be planted in the house of the Lord shall flourish. They shall bring forth fruit in old age; they shall be fat and flourishing.'
According to the Hadith of Al Tirmidhi, "The Messenger said: 'Ajwah dates are from paradise.' " In a Hadith by Abu Dawood the Prophet said: 'If you have a date, break your fast with it, if you don't have a date, fast with water as it is purifying.'
In Surah Maryam of the Qur'an, Allah provided Prophet Isa's mother Maryam with fresh dates when she was experiencing pain during the final stages of her pregnancy. 'Shake the trunk of the palm toward you and fresh ripe dates will drop down to unto you.' (Surah Maryam 19 ayah 25)
Doctors recommend that pregnant women be given foods like the date, containing fruit sugar, on the day they give birth. It contains oxytocin, a hormone that stimulates contractions of the womb during childbirth.
Dates contain sodium, potassium, calcium, magnesium, iron, sulphur, phosphorous, folic acid, chloride as well as vitamins A, beta- carotone, B1, B2, B3, and B6.
A male and a female palm is required to produce dates - they cannot produce alone - the lesson of the date palm is their essential sense of community.
Date palms are pollinated by the wind blowing the pollen from the male palm to the female pslm - the wind is symbolic of the 'Al Roh Kudus' who is often called the wind of the Spirit of God.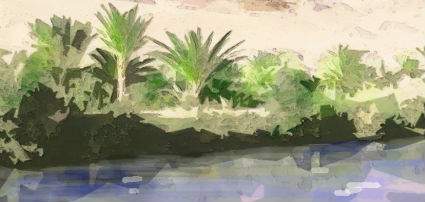 Date palms need water to grow - water provides life for the date palm - without water the date palm will die - water produces life.
In the Book of Jeremiah in chapter 2 verse 13 the prophet proclaims, 'God spoke to His people and reminded them of the fountain of living waters he had provided for them'. This was a reference to the Holy Spirit / Al Roh Kudus who wants to dwell in us.
Allah's people were trying to please Him by their own works, without the Holy Spirit's power. Allah was trying to get them to trust in Him for the power to live a righteous life.
The Prophet Isa/Jesus spoke to a Samaritan woman at a well and said: 'If you knew the gift of God, and who it is who says to you. "Give me a drink" you would have asked Him, and He would have given you living water.'
She said to Him, 'Sir, you have nothing to draw with and the well is deep: where then do You get that living water?
'You are not greater than our father Yaqoob are You, who gave us the well, and drank of it himself, and his sons, and his cattle?'
But Isa answered and said to her, 'Everyone who drinks this water will soon become thirsty again. But those who drink the water I shall give will never be thirsty again. It becomes a fresh, bubbling spring within them, giving them eternal life.'
In the Gospel (Injil) of John chapter 4 verse 13 -14 Isa was referring to the Holy Spirit as the 'eternal living water.'
Living in close relationship with Isa makes the living water of the Holy Spirit available to those who believe, and it will produce eternal fruitfulness in our lives.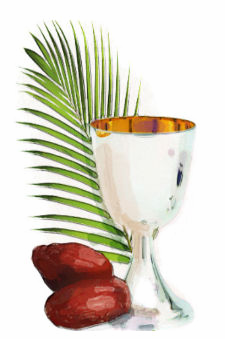 Next
The next story in this series is called The Camel. The Camel is your means of transport on your pilgrimage through the dessert, and this amazing animal will guide us on The Right Path as we make our journey.
Buy sets of these five leaflets & share with friends
---
ALSO ...

Click and read "The Right Path", a book which answers questions asked by thoughtful Muslims and Christians.